Each line of this poem represents the title of a book of original philosophical quotes and poems. Together, these six books constitute the Knowing series, which focuses on the exploration of common issues in human existence and pursuits. The series is published by Palioxis Publishing.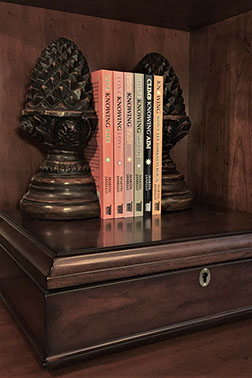 All parts of the series and their contents can be read without a particular sequence or pacing. Samples of these quotes and poems can be found in my Twitter and Facebook feeds as well as a number of book sites linked in Section 5 b) and c) of the Materials section. Also check out the Martin's Mindful Minutes playlist on the Philosophy of Happiness YouTube Channel. It contains videos in which I read and discuss themes and excerpts from my books, among them quotes and poems of the Knowing series.
Like my other works, these collections of quotes and poems do not claim indisputable wisdom. They offer crystallization points for readers' thoughts and emotions to help them delve into what matters to them and find motivation and understanding for a good life.
Helping readers in their discovery and pursuit of happiness is also the intent of my main work, the Philosophy of Happiness Book, which systematically surveys human conditions to empower readers in developing their own responses.
The Knowing series books can therefore be introductory or illustrative companions to Philosophy of Happiness. But they can also be sampled on their own for inspiration - or just diversion and entertainment for now to maybe be revisited for deeper reflection some other time. Either way, they do not presume any background in philosophy. This makes them ideal starters for readers trying to figure out their life with the support of philosophical consideration.