Every line of the above poem represents the title of a book of original philosophical quotes and poems. Together, these six books constitute the Knowing series.
They focus on the exploration of common philosophical issues in human existence through vignettes designed to initiate deeper consideration. Each of the books contains more than 500, most over 600 entries. The series is published in convenient travel-sized paperback and several e-book formats by Palioxis Publishing. See more information by selecting the "Purchase Information" label.
Complete online review versions of all six books are accessible by tapping on their cover plates. Daily samples are streaming, together with other philosophical discussions, in my X, Facebook, and Instagram feeds. Also see discussions of my books, including the Knowing series, in the Martin's Mindful Minutes playlist on the Philosophy of Happiness YouTube Channel. Copies of episodes stream to all four of my other social networks.
Volumes and contents of the series can be read without particular sequence or pacing. Like my other works, these collections do not claim indisputable wisdom. They offer crystallization points for readers' thoughts and emotions to help them delve into what matters to them and find motivation and understanding for a good life.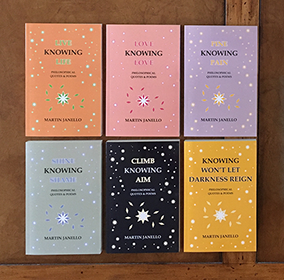 Helping readers in their discovery and pursuit of happiness is also the intent of my main work, the Philosophy of Happiness Book, which systematically surveys human conditions to empower readers in developing their own responses.
The Knowing series books can therefore be introductory or illustrative companions to Philosophy of Happiness. But they can also be sampled on their own for inspiration - or just diversion and entertainment for now to maybe be revisited for deeper reflection some other time. Either way, they do not presume any background in philosophy. This makes them ideal starters for readers trying to figure out their life with the support of philosophical consideration.